With iPad Pro officially going on sale tomorrow (possibly at midnight tonight Cupertino time if Apple follows past launches), it's time to move our attention to accessories for the device.
Will you go the Apple route and stock up on the official but pricey Apple keyboard, case & cover, and Apple Pencil? Or perhaps you're looking for accessories with features that aren't offered by Apple's. Whatever the case, below we've started rounding up the best of the best accessories for iPad Pro. Most are available to order now while a couple are coming soon. We'll be adding more as they pop up in the weeks following the iPad Pro's launch.
---
Cases & Covers & Sleeves:
Apple Smart Cover & Silicone Case: Apple's official Smart Cover ($59) and Silicone cases ($79) will ensure you get a made-to-measure fit. The Smart Cover is made of "durable polyurethane" and is available alongside the new iPad Pro this week in white or charcoal gray. The Smart Cover gives you full protection of the display, while adding a silicone case for the back will give you full front and back coverage.
Gumdrop Hideaway case ($69): Gumdrop is always one of the first out of the gate with high-quality cases for new Apple products and that's the case with the iPad Pro too. The company's Hideaway case features a built in stand with multiple viewing angles, rubber reinforcements on the corners, a built-in Apple Pencil pocket, and it can be used together with Apple's Smart Keyboard (below). It's available in black, blue/green, white/grey, or red/black color combos and it's up for preorder now with shipments starting November 25.
Waterfield Travel Express ($89) & Dash Sleeve ($59): High-quality, made in San Francisco sleeves are now available to order for iPad Pro from WaterField. The Travel Express comes in two colors with an optional shoulder strap, and the Dash Sleeve in two different colors with an option to add extra space to accommodate Apple's Smart Keyboard for iPad Pro.
Luvvit Clear Grip ($15): A low cost option on the list that will give you back cover protection and still let you show off your iPad. Luvvit's Clear Grip is a soft transparent TPU rubber cover for the back of your iPad but with a raised bezel on the front corners for a bit of protection for the display too. Available to order now. Ships Nov. 20.
DODOcase Multi-Angle ($79.95): Popular case maker DODOcase has its new Multi-Angle case for iPad Pro up for preorder with a look inspired by an artist's journal or sketch book. It has an elastic band to keep the case closed or store the Apple Pencil or other stylus, and it's available in four color options pictured above. You can order it now with shipping starting over the next couple weeks.
Catalyst Waterproof case: One of the first waterproof cases announced for the iPad Pro comes from Catalyst. The design is Rated IP68 waterproof up to 2m and still offers full access to TouchID, Apple Pencil, and speakers while still being waterproof. No firm shipping date or price as of yet.
Pad & Quill Contega Linen Case & Oxford Leather case ($119): Pad & Quill has versions of its popular iPad cases available now for iPad Pro. Both are available for $119 and come in various color options with shipping scheduled for mid next month.
Joli Original Smooth iPad case (€90.08): If you want a leather sleeve, look no further than the Joli Original Smooth case for iPad Pro. Handmade in Amsterdam from full grain Italian leather and Dutch wool, it's available to preorder now for iPad Pro in 3 colors (with 2 lining color options each) and with an option to add extra room to accommodate Apple's new Smart Keyboard.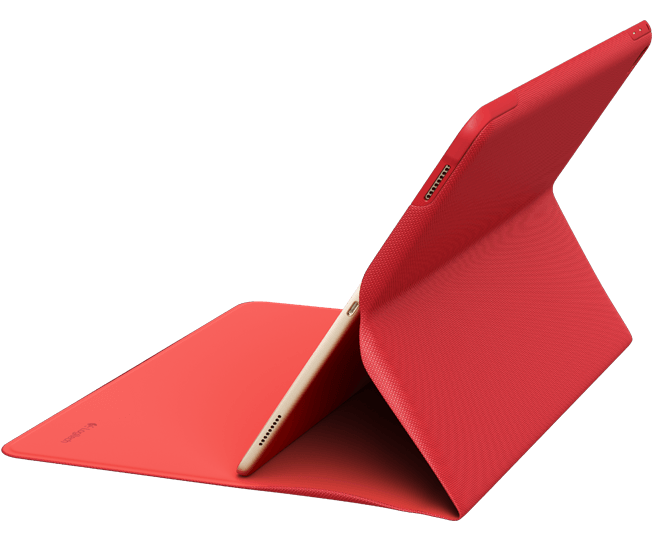 Logi Create Protective Case with Any Angle Stand ($79): Also available for iPad Pro from Logitech is the Logi Create Protective Case with Any Angle Stand. It's essentially the Logi Create case above but with 60-degrees of viewing angles and minus the integrated keyboard and Smart Connector.
Pad & Quill Valet Leather Bag ($119): Another handcrafted option from the people at Pad & Quill, the Valet Leather Bag is available in Black and Chocolate color options, includes 2 pen holders for Apple Pencil or other styli, and a secondary pocket large enough for a keyboard or other accessories. It's in stock now from Pad & Quill for $119.
---
Keyboards:
Apple Smart Keyboard ($169): Apple's official keyboard for the iPad Pro and the first it designed specifically as a companion product for the iPad. It doubles as a cover for the front of the iPad when closed and not in use, a water and stain resistant design with no crack between keys, and comes in at an extremely thin 4mm thickness. It also includes Apple's new Smart Connector technology that allows it to easily attach to the iPad and charge, no wires required. At launch, however, it will only be available in a US English layout. 
Logi Create with Backlit Keyboard Case ($149): Made specifically for the iPad Pro and featuring Apple's new Smart Connector from its own keyboard case, Logitech is one of the first notable companies with an official, third-party keyboard for the new iPad. It's launching alongside the iPad Pro this week.
Zagg's Slim Book ($139): Shipping in December, Zagg's new Slim Book for iPad Pro features backlit keys with 7 color options, two-year battery life between charges, and pairing and quick switching between up to 3 devices. It also has a cover for the back of the iPad that you can detach from the keyboard, allowing you to keep the iPad's backside protected even when not using the keyboard.
Zagg Messenger Universal ($69.99): Also coming this month from Zagg is the less expensive Messenger Universal keyboard case for iPad Pro.
---
Apple Pencil & Styluses:
Apple Pencil ($99): Apple's stylus designed specifically for the iPad Pro. Apple claims it's been able to optimize the input device with the hardware so that Apple Pencil is super precise and a much more accurate experience overall compared to others. It lasts 12 hours on a full charge and takes just 15 seconds of charge time to get 30 minutes of use with the built-in Lightning connector.
Pencil by FiftyThree ($49-$59): And if for some reason Apple's pencil doesn't do it for you, or if you want something that actually looks like a pencil, the Pencil by FiftyThree is a stylish option that has an enthusiastic user base alongside the popular drawing app Paper by FiftyThree. You'll also save $50 over Apple's Pencil at $49-$59 for the Pencil by FiftyThree. 
Adonit Styluses ($15 and up): An even cheaper option (depending on the model) is one of the popular styluses from Adonit ranging from $15 up to around the same price points as the Pencils above.
---
Stands & Docks:
 
Moxiware Apple Pencil dock ($29): Moxiware's dock allows the Pencil to stand upright while charging, not unlike a traditional pen holder. It's available in 4 models: Aluminum and wood finishes in either a cone shape or a cylinder shape with an extra pen slot. Ships in December. 
TwelveSouth HiRise iPhone (Apple Pencil?) dock ($35-$59): TwelveSouth emailed to remind us that its HiRise iPhone dock charges just about anything that uses a Lightning connector (iPad Pro not included— it's too big). The company confirmed that you can indeed stick an Apple Pencil on it, making it one of the first charging docks available for the new Apple stylus. And it will also double as a charging dock for your iPhone, Magic Mouse 2 & keyboard, Apple MFi controllers, 
---
Screen Protectors:
Iconic Pro Screen Protector ($4.85): Ionic Pro's screen protector is a 0.3mm clear piece of tempered glass applied with an included adhesive and giving you the usual protection against scratches on the display. You can get a 3 pack for $8.85.
---
Check back soon for more… 
Accessory makers can email me at Jordan@9to5Mac.com to be considered. 
FTC: We use income earning auto affiliate links. More.