Apple released iTunes 11.3 on July 10, 2014, a great upgrade for HD movie fans. The new feature brings iTunes Extras to iTunes HD movies played on Apple TV 6.2 and iOS 8. iTunes Extras give customers an all-round visual and audio treat by providing behind-the-scenes videos, short films, high-resolution image galleries, director's commentary, scenes, and so on, which are often included with DVDs, but has always been limited on iTunes movies. But now iTunes Extras, as a part of iTunes 11.3, enables iTunes users to enjoy all of them freely alongside all purchased iTunes HD movies, and these contents would be automatically added.
However, if you are hankering to watch this bonus of materials on iOS, you will need to wait for a longer time, which would be available until iOS 8 has been released to the public. As a iTunes HD movie fans, you would never feel satisfied with enjoying iTunes Extras on some severally limited Apple devices,wondering if there is a way to play all iTunes movies including iTunes Extras on any available device.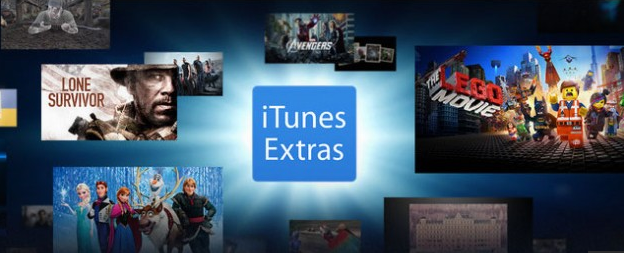 As of now, all iTunes m4v videos are under the protection of DRM, HD purchased movies with iTunes Extras are no different. The only way to play iTunes movies on non-Apple devices is that stripping all DRM protections from these iTunes m4v files and converting them to common video formats from .m4v, like .mp4, mov, avi. Therefore, an iTunes DRM removal software would be absolutely necessary now.
Thanks to Tune4mac technical team who develops a wonderful iTunes DRM removal software—Tune4mac iTunes Video Converter Platinum, which lets you bypass DRM of iTunes both rented and purchased m4v videos including iTunes Extras legally to get 100% lossless quality output videos in common formats. The following article will introduce the DRM-cleaned process in details to you.
Convert iTunes 11.3 HD Videos & Extras with Tune4mac iTunes Video Converter Platinum
Preparation: Please confirm you have already freely downloaded and installed Tune4mac iTunes Video Converter Platinum on your Mac. And make sure you are running the latest version iTunes 11.3.
Please note that the compatible OS of tune4mac DRM removal media is Mac OS 10.8, 10.9 and 10.10. (Guide here). For Mac OS 10.6 & 10.7 users, please download 3.3.1 version.
Step 1 Launch Tune4mac and add iTunes m4v video;
When you start Tune4mac M4V Video Converter software and click "Add" button, iTunes would be opened automatically, and all your available iTunes files would be showed up. (Note: iTunes Extra is only available to purchased iTunes HD videos.)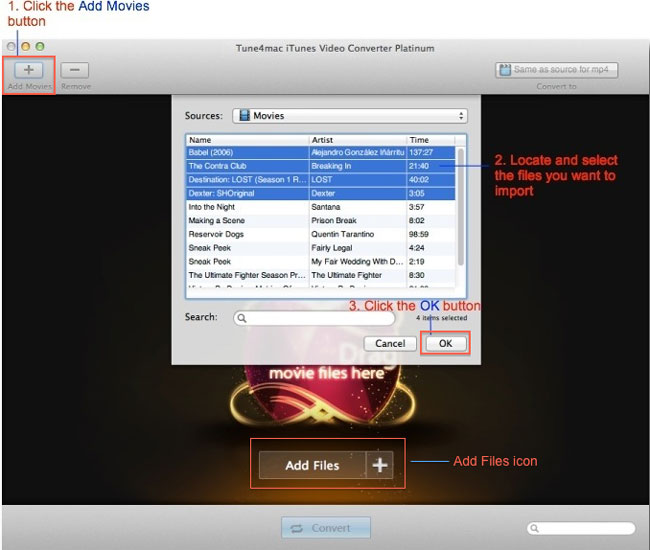 Step 2 Choose a format for playback device;
Tune4mac provides you with various kinds of common video formats like mp4, mov, avi, mpeg, .etc. It is suggest to choose a output format depending on your playing device by clicking "Profit" tag. Here are also tons of fashionable devices for your choice, such as Samsung Galaxy, Sony, Xbox, and so on.
Step 3 Start to convert m4v videos to common formats.
A converting dialog box would be popped-up when you click "Convert" button and please click "Start" to begin the iTunes m4v video conversion.
With above 3 easy steps, you can play any iTunes video including iTunes 11.3 HD vidoes and Extras without the need to wait for the unveiling of iOS 8 at all. What is more, you can watch them on any playback device instead of numbered Apple-devices with no restrictions. Steal a march on others to enjoy the most full iTunes HD movies with iTunes Extras and access to behind-the-scenes secrets immediately!
People Who Viewed This Page Are Also Interested In This Articles:

   How to Make iTunes Video Compatible with Sony Xperia Z2?

   Tutorial on Streaming iTunes Rental and Purchased Videos with Plex

   Steps to transfer iTunes M4V videos to Sony PS4

   Watch Movies Purchased and Rented from iTunes on Roku