"I have a Kindle and my mom was kind enough to buy me a book she knew I wanted on iTunes without discussing it. She didn't know they're not compatible. I don't have anything to read an iBook on. Is it possible to remove the DRM? I tried apprenticealf's tools for calibre and it didn't help me at all.
It really is a bummer that when I do have a legally paid for ebook I can't even read it…"  – From reddit (https://www.reddit.com/r/ebooks/comments/1ljvi2/ibooks_and_drm_removal/)
This is where Digital Rights management (DRM) or put more plainly, copy-protection, becomes a buge nuisance. If you buy an iBook from iBook store, the ePub file contains DRM that keeps us from reading the eBook on anything but Apple devices and software. That clearly doesn't work if I want to read the iBook with other software.
By searching iBook related topic on Google, I found the most one we are talking is that iBook DRM protection. It prevents us reading iBooks more convenient.  As an iBook lover, I also want to bypass the iBook DRM protection and read the iBooks everywhere, like Amazon Kindle, Nook Tablet or my Android phone.  Here I want to share my experience on how to decrypt the iBook DRM protection and convert iBook ePub files to other common eBook formats.
Firstly, we should remove the DRM from iBooks.  I chose TunesKit iBook Copy for Mac (http://www.tuneskit.com/ibook-copy-mac.html), which is a smart and unique iBook DRM removal tool in the market currently.  Now I'm a big fan of this powerful application. 
You should download and install this application on your Mac at first. This app only works with Mac OS X 10.8 or above and you need to install the newest iTunes version as well.  It will work with iTunes together to bypass the iBook DRM.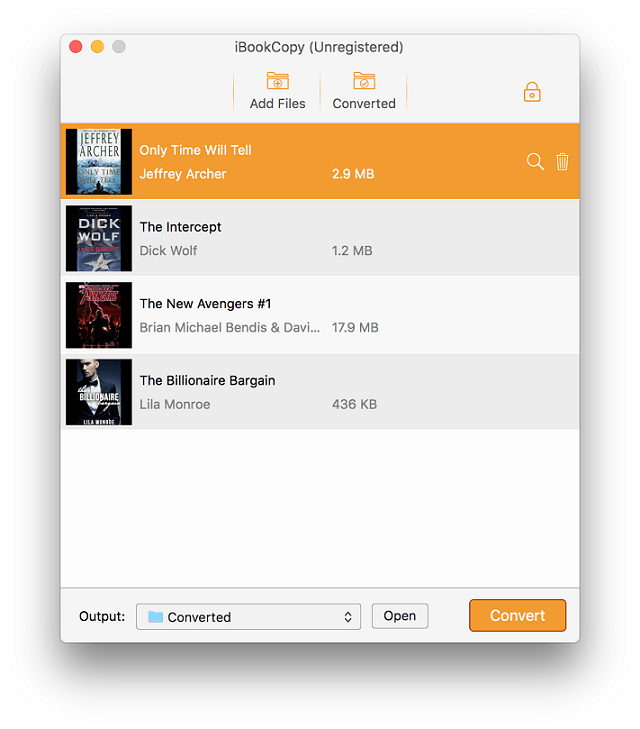 Yes, the layout of this Mac app is clear, and it's very easy to use.  Just add iBook ePub files to the program by clicking "Add Files" button or directly dragging and dropping the ePub files. Then start to strip iBook DRM protection by easily clicking "Convert" button.
Secondly, to read the ePub files on other eReaders or eReader software, I have to convert the ePub files to other formats, because the ePub format is not compatible with many devices like Kindle.   Calibre (http://calibre-ebook.com/) is a well-known eBook converter freeware on the network.
Calibre is the best e-Book manager & Converter tool for Mac, Windows and Linux.  It can convert e-books from format to format.  Calibre supports the input formats: CBZ, CBR, CBC, CHM, EPUB, FB2, HTML, LIT, LRF, MOBI, ODT, PDF, PRC, PDB, PML, RB, RTF, SNB, TCR, TXT. The output formats: EPUB, FB2, OEB, LIT, LRF, MOBI, PDB, PML, RB, PDF, SNB, TCR, TXT.
Choose the OS X version for your Mac, then install it.
Launch the Calibre freeware on your Mac,  and Add TunesKit generated ePub files, then choose the eBook Converter panel on Calibre. Set output settings and choose the right format you want to convert to. Finally, click "OK" to start converting ePub files to other formats.
After the conversion done, you can transfer the DRM free iBook ePub files everywhere you want.